Napanoch, NY

Page 5
Old Hotels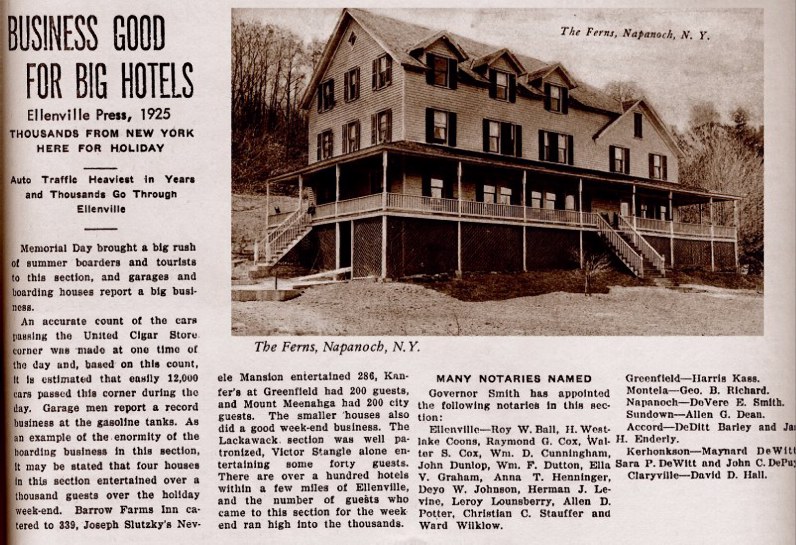 Hotel Shanley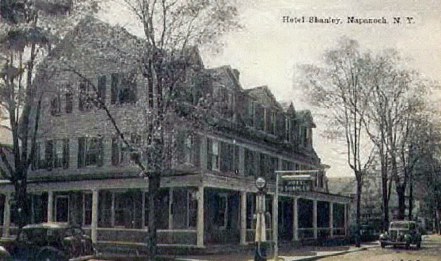 Old Post Card of The Hotel Shanley on Main street. The Napanoch
Hotel was formerly owned by George Grosselin.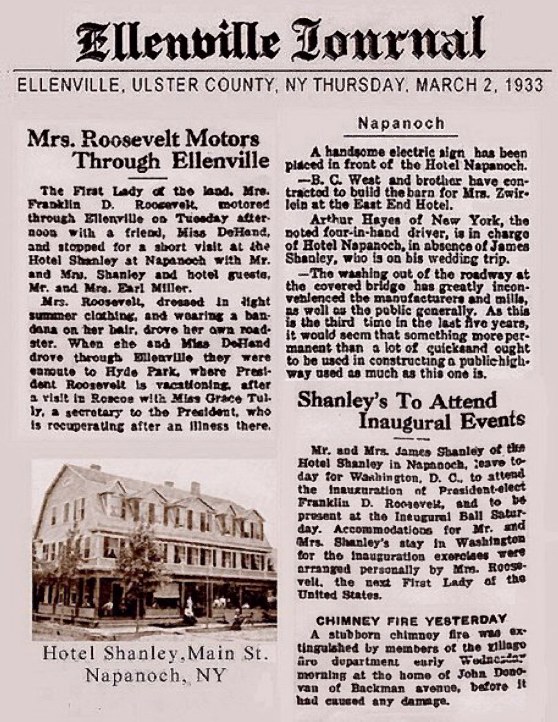 News Flash!
The Old Shanley Hotel is now being fully restored back to the way it
was in the early days by Sal and Cindy Nicosia of Napanoch, NY
Will keep you posted as to the restoration work in progress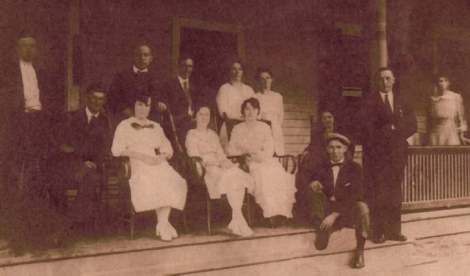 Standing Right: James Shanley.Sitting Right behind man with cap:
Beatrice Shanley. Esther Rowley Faughnan (Beatrice Shanley's
sister ) seated first on the right . Her husband was John J.
Faughnan, (standing second from left) James Shanley's cousin.
The original photo shows "Hotel Napanoch" across the front. The
change to "Shanley's Hotel" occurred circa 1915. Shanley was
known to have large family gatherings on Easter weekends so
I would guess the date of this picture is circa probably Easter
1910 to 1915.
The Hotel was sold to James Shanley 1906
The year of this picture 1936,39?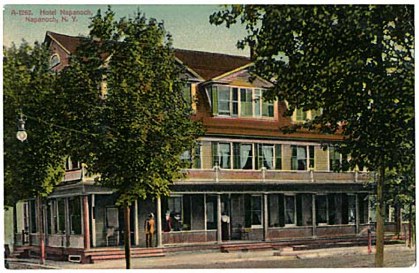 Hotel Shanley. Note the old street light at the left of picture. Early 1900s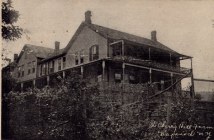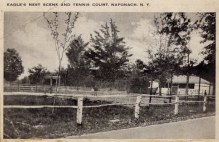 Left:Napanoch Cherry Hill Farm.
Right:Napanoch Eagle's Nest and Tennis Court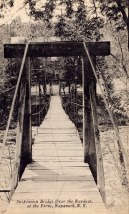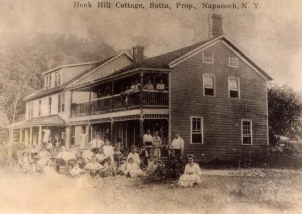 Left:Suspension Bridge over the Rondout at the Ferns Hotel
Right: Hotel Sutta at Honk Lake, Napanoch, NY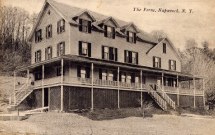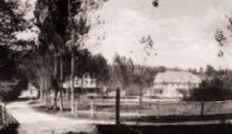 The Ferns Hotel. 1910 Barrow Farm Inn. Napanoch. 1910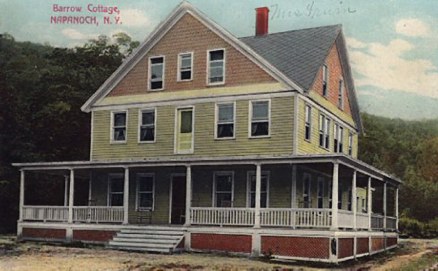 Barrows Farms Inn Cottage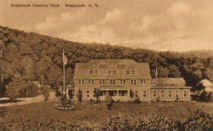 Barrow Farm Inn Barrow Farm Inn Pond on the Rondout Creek
Barrow Farms Inn on Rt. 55 in Napanoch became the Napanoch
Country Club in 1925 and later was sold to Yeshiva Karlin Stolin
of Beth Aaron Veisare Rabbinical Institute.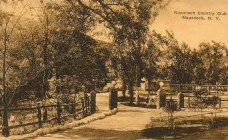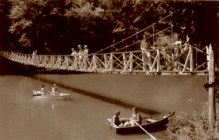 Left:Entrance to the Napanoch Country Club
Right:Napanoch Country Club Walking Bridge over the Rondout Creek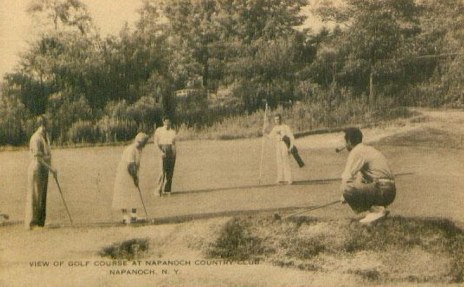 A Day on the Napanoch Country Club Golf Course 1941
Barrow Farms Inn on Rt. 55 in Napanoch became the Napanoch Country Club in 1925
and, for several decades, maintained a nine-hole, par-3 course. Francis Irwin, reminiscing
about the years he worked thereas a caddy, talked about the course being on the other
side of the stream, with the ninth hole at the gate. The Napanoch Country Club was an
Invited club, with membership only by invitation. Many local young men worked as caddies
at the club, including Jim and George Barthel, Jim Plunkett, Francis Irwin, and the Eck
boys among others. The property later became a health facility known as Camp
Napanoch, Inc., and still later was sold to Yeshiva Karlin Stolin of Beth Aaron Veisare
Rabbinical Institute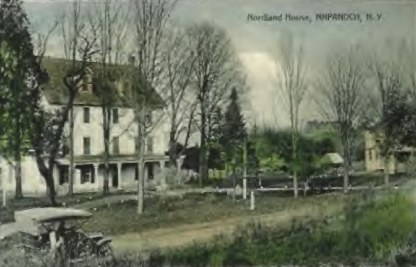 Nordland House. North of Napanoch along Rt. 209.
White Wolf Restaurant is located here at the present time.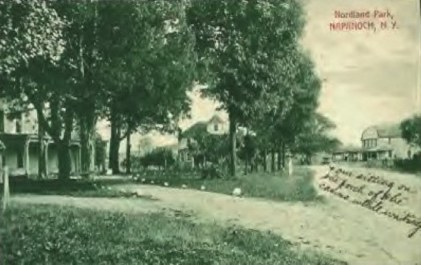 Nordland Park. Note old car approaching at right center of picture.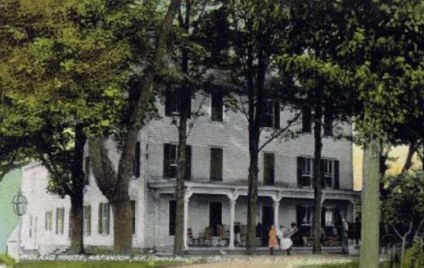 Close up of Nordland House and Guest.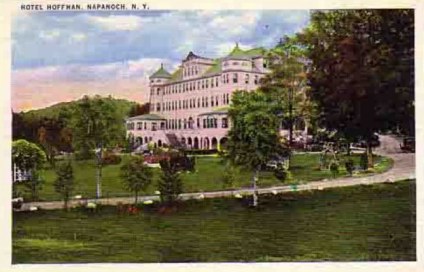 Hotel Hoffman. Located at Honk Lake, Napanoch, NY
on Sportsman Road. 1940s
The Lackawack House Hotel also called the Shields Hotel
The Lackawack House was built in the 1880s.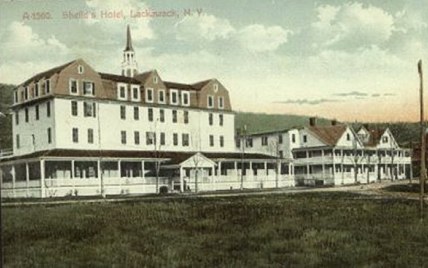 Another view of the Old Lackawack House or Shields Hotel Early 1900